The Best Vegetarian Option at 17 Fast-Food Chains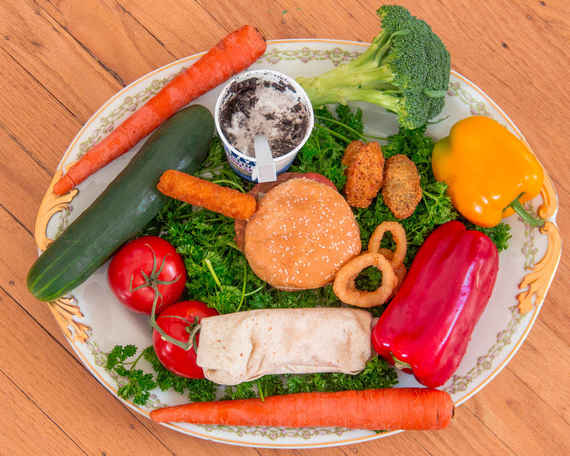 via Thrillist
By: Rachel Freeman

It's hard out there for a vegetarian. Especially when it comes to snagging quick eats on the cheap. In a fast-food world where the burger reigns supreme and drive-thru menus tout vegetable sides inexplicably containing pork fat, options are, well, limited. But that doesn't mean it needs to all be doom and gloom — all the major fast-food players have at least one tasty veg-friendly choice on their roster to keep you satisfied. And to save you from staring blankly at the drive-thru screen searching for something you can eat, we've rounded up the very best option at all the big chains.
Important note: many of the selections on this list are fried, which means there's no guarantee that they're not cooked in the same oil as non-veg items. If you're ordering at a fast-food spot, this is probably a risk you're already willing to take, but just know that if you are conscious of contamination, many of these suggestions will not work for you. You should probably just ask. Or just say "screw it," because you're starving.
More: Things People Say When You Tell Them You're a Vegetarian/Vegan

Credit: Flickr/Jay Reed
Chick-fil-A: Waffle fries
When a place is named after the animal it serves, you're kind of SOL. But since you're here (why are you here?!), the waffle fries are good. And they're allegedly vegan.
Carl's Jr./Hardee's: Veg It. Thickburgers
Both Carl's Jr. and Hardee's (Carl's Sr.?!) offer up a "Veg It." option for their Thickburgers. At Hardee's, that just means a burger, but minus the patty. At Carl's, though, they offer up a package of fried zucchini you can load onto the bun. Why they haven't seized the opportunity for a commercial featuring Paris Hilton washing a car while eating a zucchini is beyond us, but it seems like a missed opportunity for their campaign.

Credit: Aaron Miller/Thrillist
McDonald's: Oreo McFlurry
You might be tempted to go for the legendary fries at the Golden Arches, but turns out the oil they fry 'em in actually contains beef flavoring, so don't be fooled. Instead go for a creamy, cookie-filled McFlurry. When it's your tastiest option, no one can fault you for eating dessert for dinner. NO ONE.
Whataburger: Egg & cheese biscuit
Whataburger's biscuits are delicious on their own, and especially with honey butter. But that does not a balanced meal make. That's why the egg & cheese biscuit is king. And yes, it's still good with honey butter.

Credit: Flickr/Adam Kuban
Sonic: Cheese tots
Sonic is the only fast-food chain where it is imperative to forgo fries for an order of cheese sauce-covered tots instead. Golden and crispy on the outside, fluffy and starchy on the inside, these salty spuds are the spirit of Sonic and demand space in your stomach. Of course, you could choose to get them plain, but when melty cheese is a choice, there's really no choice at all.
Jack in the Box: Stuffed jalapeños
Jack's forte is 420-centric gigantic burgers, some of which are stuffed between grilled cheeses that aren't on the regular menu. Luckily, they have all-day breakfast, with egg sandwiches and mini pancakes. But let's be honest. If you're here, it's because you want something fried. So thank goodness for cheesy jalapeño poppers, which go pretty well with curly fries and a late-night viewing of The Wall.

Credit: Lee Breslouer/Thrillist
Taco Bell: Anything and everything!
T-Bell is without a doubt the greatest fast-food spot for meatless folks, but that'll happen when your options are exactly the same as everyone else's. Pretty much everything at Taco Bell can be made meat-free with beans and/or potatoes as the replacement protein — you just gotta ask. My personal favorites are the Crunchwrap, Cheesy Gordita Crunch, and Quesarito, but really, the world is your beefless burrito. Or whatever.
Arby's: Mozzarella sticks
What, you didn't know that Arby's has mozzarella sticks? Fair enough. It's hard to see past the Meat Mountain. But, as with any place that serves them, the mozz sticks at Arby's are insanely good — as good as anything that you can get at a bar, but cheaper.
9 more of the best meatless fast-food options await, only at Thrillist.com!
More from Thrillist:
The 21 Best Vegetarian/Vegan Restaurants in America
Breaking Down the Single Best Item at Every Major Fast-Food Chain
Like Thrillist on Facebook: http://ift.tt/1AM8boP