Donald Trump Burger Seeks Fans in UK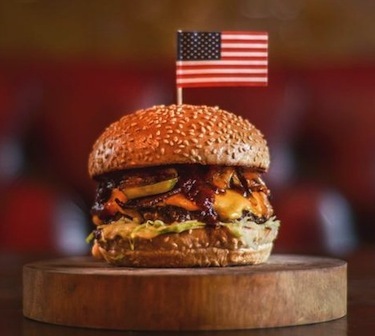 via BurgerBusiness National Burger Day may be a UK event, but Donald Trump is there, too, if only in spirit. The third annual celebration of the one-day (Aug. 27) event includes 20% discounts on burgers at hundreds of restaurants–from burger bars to ethnic concepts–plus a "Street Feast" Thursday evening in Dalston Yard in northeast London. The £15 admission price (sorry sold out) allows diners to sample mini burgers (ranging from 2.6 oz. to 4 oz.) from 18 restaurants (including Philadelphia's PYT) plus desserts from the delightfully named Crumbs & Doilies and Scoopsy Daisy.
The Donald Trump Burger (above) is the National Burger Day entry from London's Lucky Chip Burgers (which features Kevin Bacon, John Belushi and vegan Woody Harrelson burgers on its regular menu). The Trump Burger is cooked medium, with the restaurant warning that "there might be some blood coming out of it," according to the Evening Standard. The topping include applewood-smoked bacon, American cheese and a "really, really rich" bourbon-vanilla barbecue sauce. Grilled onions will be neatly arranged on top a la The Donald's hair, and it has pickles that "will leave a sour taste in your mouth." The 105 gram (3.7 oz.) burger will be £6 at Thursday's Street Feast.
National Burger Day is the creation of Mr. Hyde, a daily email from entertainment and lifestyle site ShortList, and Big Eater, which describes itself as "a regular meet-up of people on Twitter; eating and drinking involved."
In addition to Lucky Chip and its Trump Burger, participants and burgers at the Aug. 27 Street Feast will be:
B.O.B.'s Lobster; B.O.B.'s Burger: a 40-day dry-aged patty, Iberico ham, sauce foyot, and jamon dust.
Bad Egg; Korean Pulled Pork Burger: Rare breed beef patty, Smokehouse Korean pulled pork, gochujang and baby gem lettuce.
Bleeker St.; Bleecker Animal Style: beef patty, American cheese, extra sauce, pickles, tomato, lettuce and grilled onions.
Burger Bear; Super Angry Grizzly: 45-day dry-aged patty, American cheese, smoked pancetta, curried pickled jalapeňo relish and scorpion bacon jam.
Busan BBQ: Chili Cheese Slider: 28-day rare breed beef patty, soy bulgogi sauce, American cheese, jalapeňo popper, kimchi and scotch bonnet relish.
Chai Ki by Roti Chai: Toddy Shop Slider: Dry-aged beef and pork patty, bacon chilli chutney, kasundi mustard and smoked Cheddar.
Duck'N Roll; Confit-Comme Ca: Mulard duck patty, foie gras, pickled girolles, crispy corn, Roquefort and bitter leaves.
Dip & Flip: Green Chilli: Beef patty, fried green chillies, American cheese, ketchup, mustard, white cabbage slaw, pickles and lashings of gravy.
Dirty Burger; My Hyde Burger: "Designed by YOU and revealed on the day."
Honest Burgers; Karma Cola Burger: Ginger Pig dry-aged beef patty, Karma Cola braised short rib, smoked applewood Cheddar, house pickles, green chilli coleslaw, braised cola gravy.
HotBox; Piggy Burger: Dry-aged beef patty, American cheese, pulled pork collar, white onion, crunchy pickle and scotch bonnet BBQ sauce.
Le Bun; Foie Gras and Summer Truffles: Aged brisket-and-chuck patty, foie gras, shaved summer truffle, truffled beef jus and American cheese.
Mother Flipper; Bacon Special: Aged beef patty, candy bacon, shoestring fries, American cheese, pickles and MF Special Sauce.
Nanban; Sasebo Stamina Slider: Shoyu-buttered beef patty, cola-braised pork belly, American cheese, burnt-garlic mayo, ginger-pickled onion and gochujang burger sauce.
PYT Burger: Pickleback Slider: Custom beef patty, applewood bacon, fried pickle chips and Jameson glaze.
Slider Bar; Bangkok Burger: Red paste "mustard fried" beef patty, som tam pickled Thai cucumbers, Asian herb salad, crispy sweet basil, kaffir lime leaf, crushed peanuts and nam prik pao "sour chilli" relish.
Smokestak; US v. UK: USDA brisket vs. Hereford dry-aged patty, smoked bone marrow and candied red onion.
– This feed and its contents are the property of The Huffington Post, and use is subject to our terms. It may be used for personal consumption, but may not be distributed on a website.