McWhopper: BK Suggests Truce, Collaboration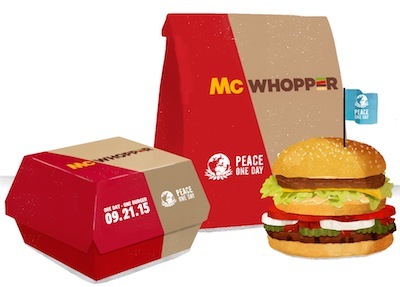 via BurgerBusiness In a full-page "open letter" ad appearing today (8/26) in the New York Times and Chicago Tribune, Burger King proposes to McDonald's that they collaborate on a joint burger, the "McWhopper," in the interests of nothing less than world peace.
The ad (see it here) imagines "a one-off collaboration between Burger King and McDonald's to create something special–something that gets the world talking" about Peace One Day, a non-profit lobbying to designate September 21 as Peace Day. Its mantra is "Who will you make peace with?" Burger King's ad suggests it and McDonald's "call a ceasefire on these so-called 'burger wars' " in the spirit of peace.
The fruit of their collaboration would be the hybrid McWhopper. "All the tastiest bits of your Big Mac and our Whopper, united in one delicious, peace-loving burger," the ad suggests. A mixed crew would sell the hybrid burger on Sept. 21, 2015, only at one unnamed location only. More details can be had at http://ift.tt/1NTtEOW.
Burger King already has McWhopper packaging designed.
In a statement, Fernando Machado, SVP for Global Brand Management at Burger King Corp., insists the invitation is more than a PR stunt. The goal, he says, is to bring attention to Peace One Day. "We're being completely transparent with our approach because we want them to take this seriously," Machado says. "It would be amazing if McDonald's agrees to do this. Let's make history and generate a lot of noise around Peace Day. If they say no, we'll hopefully have, at the very least, raised much-needed financial support and consciousness for the great cause that is Peace One Day. And both are well worth the effort."
– This feed and its contents are the property of The Huffington Post, and use is subject to our terms. It may be used for personal consumption, but may not be distributed on a website.