Top 5 Molecular Gastronomy Restaurants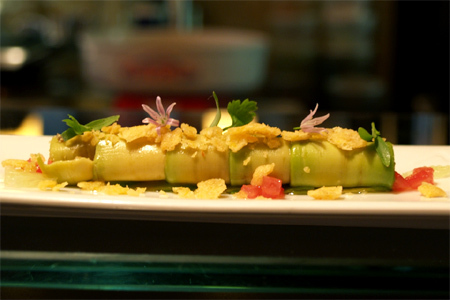 via GAYOT.com
Combining avant-garde cooking techniques with high-tech kitchen tools and a poetic sense of whimsy, molecular gastronomy is equal parts art and science. From deconstructed dishes to playful foams to smoky liquid nitrogen desserts, molecular chefs seek to explore food in a new light — experimenting with different forms, flavors and textures. While some dismiss it as mere trickery, in the hands of the greats, molecular gastronomy can elevate dishes to another dimension. On our list of the Top 5 Molecular Gastronomy Restaurants, you'll discover some of the most creative kitchens in America pushing the boundaries of modern cuisine into exciting new territory. So bring your appetite and your open mind — and don't be surprised if your salad comes out as a collection of colorful dollops!
minibar by José Andrés
Washington, D.C.
At minibar by José Andrés, patrons are treated to an avant-garde tasting menu of more than two dozen courses. Creative bites might range from Parmesan cupcakes to "Pizza José's Way" (a wafer-thin crust topped with burrata, caviar and truffles) to a "Rubber Ducky" meringue filled with foie gras ice cream.
Read a complete review of minibar by José Andrés
Travail Kitchen and Amusements
Robbinsdale, MN
Travail Kitchen and Amusements presents molecular-meets-Midwest fare. Expect creative dishes such as pork sausage sitting atop house-made "dirt" — a combination of ground porcini and chicharrón that really looks like soil. Dessert may be something like an apple cider treated to liquid nitrogen tableside, altering it from liquid to solid.
Read a complete review of Travail Kitchen and Amusements
Haven
Miami Beach, FL
Haven's panoramic video walls transport patrons to another world with digital projections of artwork, clouds, city nightscapes and mountains. Chef Todd Erickson's small plates are good for sharing with molecular cocktails cooled by liquid nitrogen ice. Bacon ice cream is spot-frozen and surrounded by chemically created clouds for a trippy dessert.
Read a complete review of Haven
Marigold Kitchen
Philadephia, PA
Marigold Kitchen's focus is on eclectic American cuisine fashioned with locally sourced ingredients and a dash of snazzy molecular gastronomy. The 13- to 15-course tasting menu might offer dishes such as Backyard BBQ, which features frozen dots with the flavors of a summer salad, beef tartare standing in for a burger, and sautéed potato gnocchi representing potato salad.
Read a complete review of Marigold Kitchen
Atelier Crenn
San Francisco, CA
In Dominique Crenn's fanciful San Francisco atelier, dishes are served bathed in bubbles, perched atop pristine logs, and in myriad unusual presentations that feel taken from a J. R. R. Tolkien novel. The seasonally inspired menu is presented as a poem, providing an emotional, whimsical element to the cuisine.
Read a complete review of Atelier Crenn
Discover more of the best molecular gastronomy restaurants
MORE ON GAYOT.com
All About Molecular Gastronomy
Top 10 New Restaurants in America
The Finest Modern American Cuisine
Cookbooks Every Home Chef Should Own
– This feed and its contents are the property of The Huffington Post, and use is subject to our terms. It may be used for personal consumption, but may not be distributed on a website.