Canadian Chain Launches Shrimp-Beef Combo Burger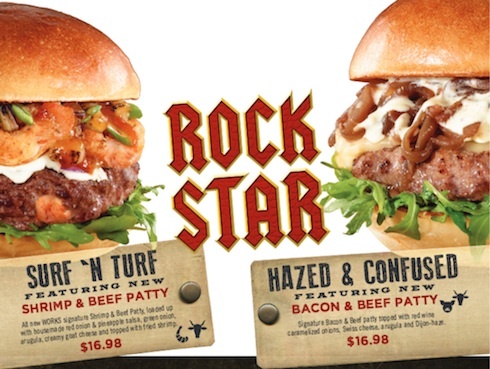 via BurgerBusiness Canadian chain The Works Gourmet Burgers didn't get the 2013 memo that multi-item promotional menus were over. Burger King and others quit doing seasonal menus then but The Works keeps launching series after series of wild burgers.
With its three-burger "Get Stuff'd" LTO menu (including the famous candy-filled Reece PBC burger) concluded, The Works has launched a new "Patty Like a Rockstar Menu" with seven new LTO burgers.
Both the "lead singers" here have patty "blends." The $16.98 (Canadian) Surf 'N Turf burger has a shrimp & beef patty topped with house-made red onion and pineapple salsa, green onion, arugula and creamy goat-cheese spread with fried shrimp. The Hazed & Confused burger, also $16.98, begins with a bacon/beef-blend patty and tops it with red-wine caramelized onions, Swiss cheese, arugula and "Dijon-haze."
The rest of the band:
∆ Hamburger Mary ($15.71): Beef, mayo, egg, tomato, Cheddar and bacon.
∆ Juicy Lucy ($14.96): A cheese-stuffed 8-oz. beef burger with lettuce, tomato, pickles, red onion and mayo.
∆ Elk on a Beech ($16.98): Elk patty with avocado, Beechhouse Sauce, sun-dried tomato and feta cheese.
∆ The Hipster ($14.73): Turkey patty with caramelized onion, avocado and Havarti cheese.
∆ Sexy Burger ($14.81): Sweet and spicy sauce, pineapple, cream cheese and banana peppers.
A veggie patty or mushroom cap is available to the meat averse. The menu is offered through March 27.
– This feed and its contents are the property of The Huffington Post, and use is subject to our terms. It may be used for personal consumption, but may not be distributed on a website.