McDonald's France Tries 'American Winter' Promo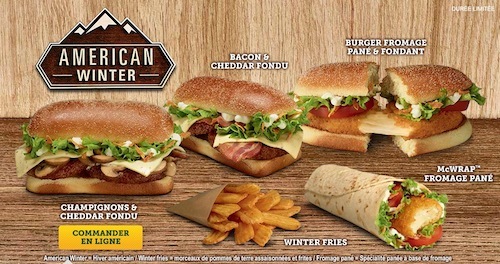 via BurgerBusiness American-themed menu promotions are staples of McDonald's and Burger King marketing in Europe, but McDonald's France has gone one better, introducing "American Winter," a five-item seasonal menu.
This latest American promotion nod comes while McDonald's Italy is running its Great Tastes of America promotion (with star-shaped burgers named for Texas, Miami's Ocean Drive and Route 66) and Burger King UK is in the midst of a Route 66 Roadtrip promo featuring a Chicago Steakhouse burger, Texas Crunch Whopper and California Chicken Tendercrisp sandwich.
Despite the name, McDonald's France's five-item American Winter menu (above) does not seem especially American. It includes two burgers: the Bacon & Cheddar Fondu (beef with cheese sauce, crispy bacon and melted Cheddar) and Champignons & Cheddar Fondu (beef, cheese sauce, grilled mushrooms and melting and melted Cheddar).
There is also what it's calling a Burger Fromage Pané & Fondant that's more a giant Mozzarella Stick in a bun than burger. There's no beef patty, just a deep-fried cheese patty with lettuce and tomato. Smaller versions of the fried cheese patty are the base for a McWrap Fromage Pané. Finally, there are seasoned ridged Winter Fries.
This is the sort of seasonal promotion that the U.S. has seen since 2013, when Burger King stopped doing multi-item Summer Menu LTOs.
Separately, in another curious menu twist, McDonald's Hong Kong has introduced Sweet Potato Sensation (below), a mix of sweet potato and McDonald's classic vanilla ice cream. It's available as a cone, sundae or McFlurry.
– This feed and its contents are the property of The Huffington Post, and use is subject to our terms. It may be used for personal consumption, but may not be distributed on a website.