14 All-American Burgers You Should Be Eating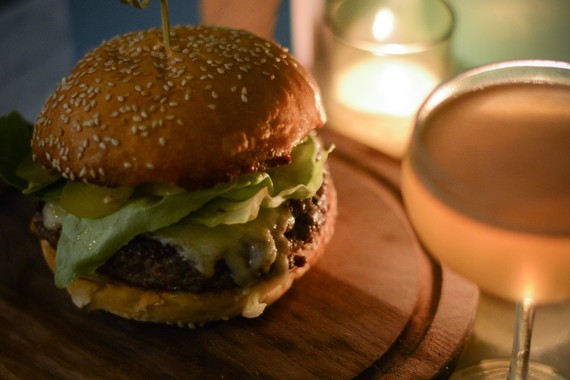 via Michelle Pruett
What's not to love about a classic burger? Sometimes there's nothing better than a juicy patty on a warmly toasted bun topped with melted cheese, lettuce, tomato and tasty condiments. Here are 14 All-American burgers that'll make you wish it was barbecue season already:
1. BURGER DU NORD – Cafe du Nord (San Francisco)
Photo provided by Cafe du Nord. Photo by the LP.
The burger at Cafe du Nord is as classic as the restaurant — which has been serving San Francisco almost continuously since 1907 — with sharp cheddar, lettuce, pickles and secret sauce plus a side of fries.
2. SINK BURGER – Sink Swim (Chicago)
Photo provided by Sink Swim.
Sink Swim puts its own spin on the traditional burger, drizzling its housemade "Sink Sauce" over a double patty with American cheese and onion rings.
3. THE PCB – Plan Check (Los Angeles)
Photo provided by Plan Check.
At Plan Check, the PCB (Plan Check Burger) comes with delicious toppings — Americanized dashi cheese, ketchup leather, schmaltz onions and mixed pickles — on a perfect "crunch" bun.
4. SECRET BURGER – Alden & Harlow (Boston)
Photo provided by Alden & Harlow. Photo by Jennifer Che.
Alden & Harlow's Burger — offered with limited availability — is made with an 80z Creekstone patty, a house-made roll and "your faith" in the chef. The burger remains a mystery until you take the first bite, but it looks darn good to us!
5. MASON PACIFIC BURGER – Mason Pacific (San Francisco)
Photo provided by Mason Pacific.
Mason Pacific delivers a juicy patty on a pretzel bun with smoked tomato and pickled red onion, plus optional gourmet toppings such as mushroom confit, white cheddar, egg and gorgonzola.
6. WHITE LABEL BURGER – Ai Fiori (New York)
Photo provided by Ai Fiori. Photo by Evan Sung.
Ai Fiori's White Label Burger — an eight-ounce LaFrieda prime patty served with bacon marmalade, slices of white American cheese, McClure's pickles and a side of pommes dauphines (crisp potato puffs)– is the epitome of a power lunch.
7. CHEESEBURGER – Sunny Spot (Los Angeles)
Photo provided by Sunny Spot.
Sunny Spot's cheeseburger — with American cheese, crispy buttermilk onions, tomato, housemade pickles and fancy sauce — is a great dish to enjoy hand in hand with its Caribbean style side dishes like avocado mash, salt and pepper fries, and rice and beans.
8. CHEESEBURGER – Alta CA (San Francisco)
Photo provided by Alta CA.
A perfect fit for the restaurant's European-influenced American menu, Alta CA's burger comes with cheddar cheese and bacon on a sesame bun with a side of crisp potatoes in garlic oil.
9. WOLF BURGER – Edi & the Wolf (New York)
Photo provided by Edi and the Wolf. Photo by Andreas Kurzahls.
A delicious lunch to cozy up to with an Austrian beer, the Wolf Burger at Edi & the Wolf is prepared with the restaurant's signature Pat LaFrieda blend, gruyere and both grilled and crispy onions, with egg and bacon offered as additions.
10. GEMINI BURGER – Gemini Bistro (Chicago)
Photo provided by Gemini Bistro.
A staple on its modern American menu, Gemini Bistro dishes out a prime beef with its applewood bacon cheeseburger on a homemade bun with a side of fries.
11. LA PUENTE BACKYARD ORIGINAL – Cerveteca (Los Angeles)
Photo provided by Cerveteca.
The perfect complement to their fantastic beer selection, Cerveteca's burger can be ordered with a beef, turkey or veggie patty and is garnished with red leaf, tomato, grilled or fried onion, housemade "not so secret sauce" and a choice of pimiento or cheddar cheese.
12. LANDMARC HAMBURGER – Landmarc (New York)
Photo provided by Landmarc. Photo by Cedric Angeles.
Landmarc offers standout cheeses to top off its hamburgers or chicken burgers — American, gruyere, blue, cheddar, mozzarella and smoked mozzarella are all on hand — to make yours ooze with delight.
13. FOG CITY BURGER & FRIES – Fog City (San Francisco)
Photo provided by Fog City.
A reimagined version of a historic destination, Fog City delivers food that strikes that same traditional yet updated balance, featuring a burger topped with smoked tomato aioli, housemade American cheese, tomato, onion and dill pickle on a brioche bun.
14. BURGER DIANE – Dudley Market (Los Angeles)
Photo provided by Dudley Market.
Dudley Market's Burger Diane, a lunchtime favorite, is a gourmet take on a classic dish, prepared with gruyere, melted onions, mushrooms, pickles and Dijon.
For all the latest on food, drinks and restaurants, visit the Reserve blog and follow us on Twitter, Facebook and Instagram.
– This feed and its contents are the property of The Huffington Post, and use is subject to our terms. It may be used for personal consumption, but may not be distributed on a website.