17 Unique Burgers You Need to Get Your Hands On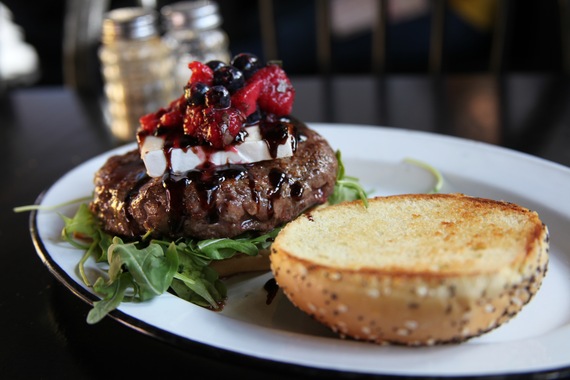 via Michelle Pruett
There are endless ways these days to enjoy a burger, one of America's favorite comfort foods. While we'll always be fans of the classic varieties, chefs today continue to push the envelope, using a variety of patties — beef, lamb, tuna, veggie and more — and a myriad of inventive toppings and sauces. Here are 17 fancy burgers that'll surprise and delight even the most experienced fast-food aficionado:
1. BERRIES & BRIE BURGER – Grange Hall Burger Bar (Chicago)
Photo provided by Grange Hall Burger Bar.
The perfect combination of sweet and savory, Grange Hall's Berries and Brie Burger is made from Tallgrass Beef Company's grass-fed beef, topped with brie, arugula, mixed berry compote, Dijon aioli and a red wine balsamic reduction, served with either a sesame seed or gluten-free bun or on a bed of lettuce.
2. THE RON SWANSON – WHISK (Chicago)
Photo provided by WHISK.
Bacon lovers rejoice at WHISK over The Ron Swanson, an 8oz burger wrapped in 1lb of bacon, topped with bacon-mayo and served with a side of regular or Cajun fries.
3. SPICED LAMB BURGER – Amali (New York)
Photo provided by Amali.
A departure from the classic beef patty, Amali serves up its Spiced Lamb Burger with tzatziki, red onion and arugula on a sesame brioche.
4. CHEF'S FAVORITE BURGER – Plan Check Kitchen + Bar (Los Angeles)
Photo provided by Plan Check.
The Chef's Favorite Burger at Plan Check is made with cheese two ways, bacon two ways, a sunny fried egg, hot sauce and ketchup leather — a mysterious, innovative take on the favorite condiment that'll have you smiling all the way home.
5. A.BURGER – a.bar (Philadelphia)
Photo provided by a.bar.
A.bar delivers a juicy patty with Lancaster Swiss — a creamy cheese that's full of flavor — pickles and bacon-onion jam.
6. HAMBURGER & POTATO TOTS – One Market (San Francisco)
Photo provided by One Market.
One Market's Hamburger and Potato Tots, prepared with sweet onions, coleslaw, port Dijon and Point Reyes blue cheese — the Best Cheese/Dairy Product at the Fancy Food Show in Washington D.C. — is the epitome of a power lunch.
7. THE ORIGINAL DB BURGER – DB Bistro Moderne (New York)
Photo provided by DB Bistro Moderne.
Not likely to be found at your backyard barbecue, The Original DB Burger is filled with braised short ribs, foie gras and black truffle, and served on a Parmesan bun with a side of pommes frites.
8. BASH STYLE – Burger & Barrel (New York)
Photo provided by Burger & Barrel.
As its namesake suggests, Burger & Barrel delivers best-in-class burgers, including the award-winning Bash Style, prepared with onion and bacon jam, pickles, American cheese and special sauce.
9. TRADE BURGER – Trade (Boston)
Photo provided by Trade.
A delicious lunch to cozy up to with a craft cocktail, the signature burger at Trade boasts rustic vibes with pancetta, Vermont cheddar and grilled onion.
10. DRY AGED BREWERY BURGER – Abigaile (Los Angeles)
Photo provided by Abigaile.
A perfect complement to the microbrews from Abigaile's on-premise brewery, the Dry Aged Brewery Burger oozes with Gruyere and truffle aioli and is topped with arugula, heirloom tomato, caramelized onion and an optional fried egg or slab bacon.
11. LE ROYALE BURGER – RN74 (San Francisco)
Photo provided by RN74.
Made with crispy pork belly and white cheddar and served with herb fries, the "Le Royale" burger at RN74 is an extra juicy lunchtime treat that's sure to fuel your afternoon.
12. ASSORTED BURGERS – The Tip Tap Room (Boston)
Photo provided by The Tip Tap Room.
On its upscale pub-grub menu, The Tip Tap Room features a number of inventive burgers, including turkey with cranberry, steak with a veal demi-glace and Italian sausage with pretzel-Dijon mustard, to pair with its 36 different draft beers.
13. WHISKEY KING – Village Whiskey (Philadelphia)
Photo provided by Village Whiskey.
Made with sustainable, farm-raised Angus beef from Maine, the Whiskey King at Village Whiskey will knock your socks off, topped with maple bourbon-glazed cipollini onions, Rogue bleu cheese, applewood bacon and foie gras.
14. SURF & TURF BURGER – The Franklin Room (Chicago)
Photo provided by The Franklin Room.
Offering the best of both worlds, the Surf & Turf Burger at The Franklin Room — ⅓ lb. Wagyu beef, soft shell crab, whiskey-balsamic sauce, fried egg, cheddar, provolone and bacon on a pretzel bun alongside waffle fries — satisfies all your cravings.
15. GRASS FED BURGER SLIDERS – Darren's Restaurant (Los Angeles)
Photo provided by Darren's Restaurant.
Darren's Grass Fed Burger Sliders — three sliders with bacon, red onion jam, in-house smoky chipotle Velveeta cheese, sun-dried tomato remoulade and brioche buns — is one of many mouth-watering snacks and small plates great for sharing with friends.
16. CATALYST BURGER – Catalyst (Boston)
Photo provided by Catalyst.
A can't-miss for condiment lovers, Catalyst's house burger is served on a brioche bun with cheddar, bacon, caramelized onions, roasted tomato, house-made ketchup, mustard and aioli, plus a side of Catalyst Fries.
17. SESAME CRUSTED TUNA BURGER – Ditch Plains (New York)
Photo provided by Ditch Plains.
Looking for something lighter? Ditch Plains' Sesame Crusted Tuna Burger with pickled carrots, guacamole and jalapeño aioli is a match made in heaven.
For all the latest on food, drinks and restaurants, visit the Reserve blog and follow us on Twitter, Facebook and Instagram.
– This feed and its contents are the property of The Huffington Post, and use is subject to our terms. It may be used for personal consumption, but may not be distributed on a website.