Memphis's Food Scene Is a Lot More Than BBQ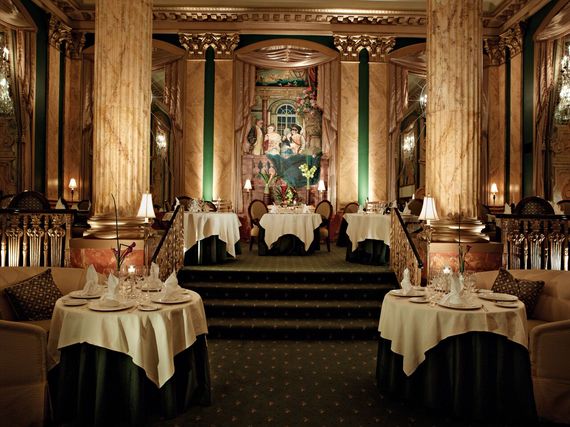 via John Mariani
If the food media had their way, barbecue joints would be about the extent of coverage they'd give this wonderful, newly vibrant Southern city. And, while there is indeed plenty of good 'cue in town, it is sheer ignorance to stop there. Over the past five years Memphis has grown diverse and global in its food scene, while still maintaining an abiding affection for the culinary heritage of the mid-South.
Just to get barbecue out of the way, the one that still gets all the legitimate publicity is Charlie Vergos Rendezvous. Opened in 1948, it is justly famous not only for its celebrity clientele–not least musicians like Vince Gill and the Rolling Stones–but for the consistency of its idiosyncratic style of dry-rubbed, un-sauced ribs. A combo of ribs and pork will run you $19.75. Practice has put perfection within their grasp.
More traditional 'cue is found at Central BBQ, serving ribs, pork, chicken, turkey, beef brisket, sausage and bologna, with four varieties of sauce on your table.
Central BBQ began after Craig Blondis and Roger Sapp met on the BBQ competition circuit in the mid-80s and became business partners in 2002; there are now three Central BBQ's, as well as a 'cue truck splashed with psychedelic colors. Lines start forming around 11 a.m. each day and on Saturdays the rafters ring with the cries of fans here to watch the University of Memphis Tigers on the TV screens.
A half plate of subtly smoky, chewy, succulent ribs runs $15.99, a full slab $22.99, and the pork plate $9.99; a combo (above) is $18.99. They also offer that Southern favorite (and acquired taste) BBQ bologna ($3.99), along with hot wings ($5.99), not to mention sides and huge desserts at very low prices–hot fudge brownie and ice cream for four bucks.
The Four Way Restaurant (below) has been the city's go-to place for soul food of the most satisfying kind–very good and very cheap. Get owner Willie Earl Bates talking about how the place started and flourished, who's eaten here, and how he doesn't think much about putting in 12-hour days and you could be here for hours. The man is a natural raconteur.
The neighborhood is run down now, but nothing has changed inside the restaurant, which has fed everyone for decades. You'll see as many Cadillacs and Lexuses in the parking lot as you will pick-up trucks and old Datsuns. Black and white people dine here together, jammed in at tables that might be occupied by Gladys Knight and The Pips, Aretha Franklin, Tina Turner, and other stars of Memphis music.
The wait staff at Four Way is as welcoming as the aroma of the fried chicken being cooked to order. (White meat is $7.99, dark meat 50 cents less.) Country fried steak ($8.99) is big as a flattened football, crisp and juicy, with a peppery milk gravy lavished over it. Then there's a big scoop of mashed potatoes, mac-and-cheese, bitter, soupy collards, and a good cornbread muffin.
Memphis has most any ethnic eatery you could want, from sushi at Bluefin and Sakura to Jamaican at Evelyn & Olive. I was taken to a very colorful Venezuelan spot called Arepa & Salsa, whose brochure offers a long, fascinating history of the stuffed corn muffins (above) that give the place its name. Start off with empanadas ($6) or arepa pernil with shredded seasoned pork ($8), then pebellon "Oscar D'Leon" with shredded beef, black beans, cheese and fried plantain ($10).
At the other end of Memphis's dining scene is Chez Philippe (first photo, above), the beautiful, marble-pillared, gilded, three-level restaurant at The Peabody Hotel, and for decades one of the grandest rooms in the South, with an unstinting commitment to haute cuisine, now under Executive Chef Andreas Kisler.
You will be pampered with the best linens, silverware, and service with a distinct Southern gloss. Three courses are $80; a five-course tasting menu is $105.
Kisler's is a sumptuous cuisine, evident in his pan-seared pheasant with braised Brussels sprouts, mixed dried berries and a truffle Peruvian potato in cassis sauce. A seared crab cake comes with barley, sweet potato and an orange-green peppercorn butter sauce. Sometimes there are one or two too many items on a plate, but I won't argue with a lavish dish of a lamb chop and braised lamb shank set in a profiterole with baby garbanzo beans tapenade, purple potato croquette and roasted garlic jus. Desserts are extravagant, from a trio of crème brûlées to the Peabody's signature Equinox Cake, a chocolate-hazelnut torte with gianduja brûlée center.
Chez Philippe's former Maîtres Cuisinier, José Gutiérez, took over the restaurant River Oaks (above) in the 'burbs, and it is representative of the modern style of international restaurant Memphis is now acquiring. With its shadowy, relaxed ambiance and murals by local artists, the dining room gets a cross-cut crowd of people who may enjoy a cocktail at the bar before letting the ever jolly Gutiérez tell them the specials. His fried crab cakes ($17) are plump with jumbo lump meat, and Gutiérez's French background shows in textbook perfect duck confit with house-made fettuccine ($26). In such a place I would not usually order a burger, but Gutiérez swore I would love it and he was right. It's a glory, with bacon bits on a crusty roll and hot pommes frites that deserve to retain their French name, and a choice of cheeses, caramelized onions, or even an egg on top ($15).
The crème brûlée ($7) here is as good as you'd expect, and don't miss the warm "Mojo" chocolate chip cookie with ice cream ($12), easy enough to share.
Some of the best Italian food I've had in the South is being done by boyhood friends Andrew Ticer and Michael Hudman, whose Italian grandmother's Sunday dinners were the inspiration for their Andrew Michael Italian Kitchen (above). They also run the acclaimed Italian-Southern restaurant Hog & Hominy across the street, and their cookbook is appropriately titled Collards & Carbonara, so they understand that Italian food should never be overly elaborate or showy.
Opened in 2008, AMIK (I'll call it) segments its menu into antipasti, which includes a very good chicken liver parfait on a generous charcuterie plate ($15); starters, with a delicious dish of leeks, romesco dressing, straciatelli of egg, red onion and pecorino ($11); and pasta, with stand-outs like the agnolotti with morels, peas, black truffles, tarragon and lemon ($14) and bucatini with a short rib ragù, taleggio, Serrano chiles, shiitake and breadcrumbs ($11).
Sorry, but Maw Maw's ravioli ($10) didn't live up to my expectations, and entrees were not quite as wonderful as what precedes them. I would recommend the pork with fennel, passatelli, ramps, pancetta ham, radish and red peas ($29), though its aggregate of ingredients goes against the Italian idea of simplicity.
I loved three desserts (all $7), from a very good, crisp and creamy cannoli to an irresistible chocolate sticky pudding and a perfectly rendered budino pudding with chocolate, salted caramel and toffee.
I had a sumptuous brunch at the 10-year-old Majestic Grille on premises built in 1913 as Majestic No. 1 movie house in a gorgeous Beaux Arts style that's taken on some art deco. Chef-owner Patrick Reilly and his wife Deni have maintained a movie screen in the two-tiered restaurant showing silent films, and there are usually lines outside waiting for a table on weekends; on Sunday people tend to dress as if they have just come from church service or are on their way to their country club. There's a lot of sweet iced tea on tables but also a lot of Champagne from an excellent list.
The brunch menu is huge, from house-smoked salmon ($10) and cornmeal crusted calamari ($9) to their signature flatbreads ($10-$12), sandwiches and burgers. And the specialties include thick-cut French toast with bacon and strawberries ($12), jumbo shrimp (above) sautéed in plenty of garlic with cheddar cheese-rich grits ($15), biscuits and gravy ($9), and much more. Generosity is the key word on every plate.
Everything I tasted I knew was made from the best ingredients Reilly can procure and all were cooked with a sure degree of attention to textures, not to mention the kind of largess that Memphis is famous for.
– This feed and its contents are the property of The Huffington Post, and use is subject to our terms. It may be used for personal consumption, but may not be distributed on a website.