The 10 Most Underrated Burgers in America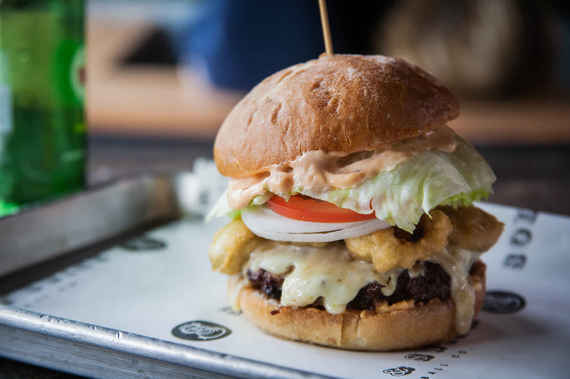 via Thrillist
By: Kevin Alexander and Andy Kryza
We spend a lot of our time preaching about the glory of the best burgers all over the country and purchasing pants with larger elastics in the waist. But this time around, we are celebrating burgers that don't get thrown a lot of written ticker tape parades. Yes, some of these burgers have made it onto our local editions' "best" lists, but we contend that — on a national scale — they still remain criminally underrated. And if you feel like we've missed out on a burger that deserves its place in the sun, shout it out. After all, we're always looking for more excuses to eat burgers.
Burger Special
Soda & Swine
San Diego, CA
We love Soda & Swine, and all it does with meatballs and the like, but when it turns those meatballs into burgers topped with fried jalapeños, pepper jack, and chipotle mayo, our love turns into something more scary and stalkerish.
More: The Best Burger in Every State in America
Char-broiled natural beef burger
Ardeo + Bardeo
Washington, DC
Now, normally we'd frown in the face of "truffle aioli" on a burger as being one of those gussied-up moves we're not really OK with, but once you try the charred burger in this Cleveland Park bistro with its melty cheddar, grilled onions, and peppery arugula, you're going to be OK with that fancy fatty bonus. Maybe just this once…

Credit: Sebastian Davis/Thrillist
The Spur
The Elder Tree Public House
Atlanta, GA
To paraphrase Mike Myers, if it's not Scottish, it's probably a burger that's made with lamb instead of beef, then stacked with bleu, stout mustard, and grilled portobellos. At least we think he said that. We were too busy inhaling the Spur at this incredible pub.

Credit: Douglas Trattner/Thrillist
The Ruby Burger
Payne Café
Cleveland, OH
The Payne's in a rougher neighborhood, as dive bars are wont to be, but don't let that scare you off. The Ruby Burger's named after the owner, who's also the bartender, who's also making your burger, which will be ridiculously big, seasoned with a special spice blend, then loaded with bacon, cheese, and a thin slice of store-bought ham, because this isn't a place for pretentiousness. It's a place to drink cheap beer and eat a soul-warming burger.

Credit: Chona Kasinger/Thrillist
The After School Special
King's Hardware
Seattle, WA
Though King's Hardware is given much love in our Seattle edition, the rest of the world needs to gaze upon the glory that is its After School Special. Mostly because the strange mix of peanut butter, bacon, burger, onions, and pickles can throw you off until you realize that YOU'RE ACTUALLY VERY MUCH ADDICTED TO IT AND NEED IT ALL THE TIME. Just say yes, kids (apologies to '80s Nancy Reagan).

Credit: Rebecca Feder/Thrillist
Cheeseburger
Vesper Lounge
Denver, CO
You wouldn't usually think that a Moroccan spot would also have a fantastic burger, but that's just because you're being close-minded. Vesper actually has a few formidable choices (including a take on the MPLS style Jucy Lucy) but you're going to want to stick with the cheeseburger, with the salt and fat cut perfectly by the homemade pickles. Oh, and the fries are topped with this delicious Middle Eastern spice blend called baharat, which is essentially an all-purpose spice that makes everything the best. Eat those too.

Credit: Kevin Alexander/Thrillist
Cheeseburger
Best Burgers
San Rafael, CA
It's in a strip mall next to a Trader Joe's. It seems like a one-off spot — a place that exists but doesn't demand your attention. And that is a shame, because get a cheeseburger with American, grilled onions, pickles, and its "sauce" (mix of ketchup, mayo, and mustard). It should be a weekly event for anyone who lives within driving distance.
The Appa
The Rabbit Hole
Minneapolis, MN
Too often, the Jucy Lucy (or Juicy Lucy, depending on who's claiming they made it) gets all the attention in conversation about Minneapolis' burger scene. Rightfully so. But That means a more high-end burger can go overlooked, as is the case at this spot in South Minneapolis, which stacks its burger with a beefy patty, smoked bacon, bleu cheese, Gruyère, bourbon onions, arugula, tomato jam, kimchi aioli & a fried egg. It's like Korean BBQ on a bun, which we'd happily sacrifice third-degree cheese burns to taste.
Cheesy Western "with"
Texas Tavern
Roanoke, VA
This legendary throwback spot opened in 1930 and is still owned by the same family (the great-grandson runs the place now). And because you have enough decisions to make in your very fancy life, TT only require one: would you like onions ("with") on your delicious griddled burger topped with American, pickles, sweet relish, and fried egg? The answer is always, always yes.

Credit: Mike Gerbert/Thrillist
MERKT's Cheddar Burger
Ivy's Burgers, Hot Dogs, and Fries
Chicago, IL
The hot dogs are great at this extremely Northwestern Chicago spot, but to be frank (!!), it's not Ivy's Hot Dogs, Fries, and Burgers. And burgers here are things of simple perfection — 1/3lb patties of Nebraskan Angus that you can get gussied up with Kalamata olives and homemade tzatziki, but to be honest, a bit of cheddar and some grilled onions are all you need on a burger this perfect.
To check out what 11 other places are serving up the most underrated burgers in America, get the full story at Thrillist.com!
More from Thrillist:
How Long Do All Your Favorite Foods Last After They're Opened?
10 Things You Didn't Know About Whole Foods
Like Thrillist on Facebook: http://ift.tt/1AM8boP
– This feed and its contents are the property of The Huffington Post, and use is subject to our terms. It may be used for personal consumption, but may not be distributed on a website.