5 Foods You Cannot Miss When in Austin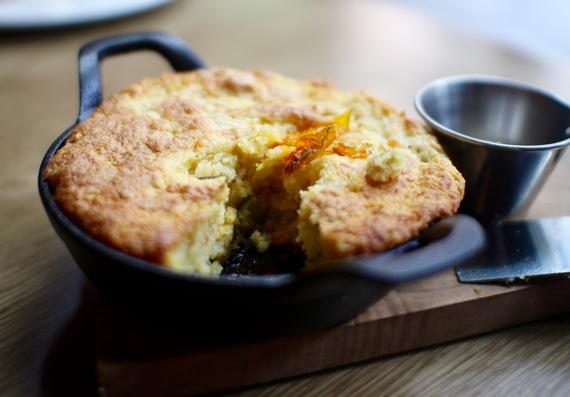 via Deborah Stachelski Austin is known for its rich culture and amazingly eclectic food. Having been here for several years, I've watched it grow and expand from its simple (but delicious) roots of breakfast tacos, to elegant and upscale cuisine, all the while maintaining its Austin personality.
If you are visiting Austin, or live here and haven't tried one of these, I urge you to please, put all of your plans on hold, and go try them today.
The Housemade Zucchini Cornbread, at Corner inside JW Marriott – Everything at Corner tastes amazing and a great deal of thought goes into their menu, but this zucchini cornbread takes the cake. Its understated name, and unassuming presentation almost makes you wonder if it really will pack that much flavor, but I am here to assure you, it does. It is perhaps one of the most well constructed combination of flavors and textures, and it is nothing like the cornbread you might be used to. Baked in an iron skillet and garnished with a zucchini bloom, making it as beautiful as it is delicious, it is served with a slice of gourmet butter and can be ordered as an appetizer. I warn you, though, the flakiness and rosemary infused notes are so divine you will probably eat the entire thing as a meal and have no shame as you order another.

The Holy Mary, at Freedmen's – This is a super Texan version of the Bloody Mary, and not only did it change my life as far as the Canadian Whisky blend went, the half pound "Holy Trinity" of smoked brisket, sweet ribs and spicy sausage as "garnish" put it over the top. It is truly one of the best meals you will ever have if you are a barbeque or Bloody Mary fan, and it's oh, so Texas. Every component of this concoction is carefully thought out, expertly seasoned, and the atmosphere just makes it all the better.

The Grits, at Fixe - If we are being simple, the grits At FIXE Southern House are a refined version of an otherwise rustic food. If we are being real, they are unbelievably mind-blowing and will have you weeping. The chef takes it to another level with the infusion of flavors, exotic blends of meats, vegetables, and seasonings on top, leaving you sad when you see the bottom of your bowl. You can't go wrong with any of the choices (carnivore, pescavore, or herbivore), especially when paired with the flakiest of butter biscuits. Please do yourself a favor and try them – if you didn't already love grits, you will now.

The Turkey Burger with the Greek Setup, at Hop Doddy – HopDoddy has been a town favorite for years, and from the bison, to the turkey, to the veggie burger, they are all incredible. The most delicate yet powerful flavor combination is the turkey patty with a Greek setup, which includes Tzatziki sauce, feta and cucumbers, making it all the more fresh. The Greek is originally made with a lamb burger, but turkey works just as well if not better if you are not fan. If you feel like a juicy and full size burger, but don't want to feel heavy after, try this combo.

The Mother Clucker, at Gordough's – If you're not familiar with Gordough's, let me break it down for you. It's donut heaven. From donut burgers, to donut sandwiches, to donut entrees, Gordough's found a way to incorporate donuts into the Austinite's everyday life in a way they never knew they needed, but are now completely addicted. Lines are long, but if you persevere, you will know it was all for a good cause when you see the Mother Clucker placed in front of you. Featuring crispy fried chicken breast, and a honey butter glaze, ou won't be sorry, but make sure to clear your afternoon for a (very) long nap.

Find more of my food adventures around Austin on Instagram!
– This feed and its contents are the property of The Huffington Post, and use is subject to our terms. It may be used for personal consumption, but may not be distributed on a website.